The Israeli parliament on Thursday passed a controversial "Jewish nation-state law", which defines Israel as a country exclusively for the Jewish people.
Now the nation's 14th "Basic Law", it declares that Israel is the nation-state of the Jewish people. The two million Palestinians who live in the land that was occupied in 1948 constitute 20% of the population of the occupying country and are treated unfairly and discriminated against by many a law that has been passed by the Israeli Knesset over the last 70 years. It also downgrades Arabic from an official language to one with special status.
Palestinian Authority President Mahmoud Abbas on Thursday called on the global community to intervene against Israel over the new law, calling the contentious piece of legislation "racist" and bristling at its affirmation of Jerusalem as the country's capital.
Arab MPs ripped up their papers in protest.
However, the law risks further alienating Israel's large Arab minority, who have long felt discriminated against.
The Irish lower house of Parliament is about to vote on a bill which would prohibit the import and sale of goods from illegally occupied settlements in the Palestinian territories.
Knesset member Amir Ohana asserted that the bill was the most important legislation in the history of the modern nation of Israel.
Bennett stressed that the Israeli army should do this, pushing the army chief to say: "I disagree with you".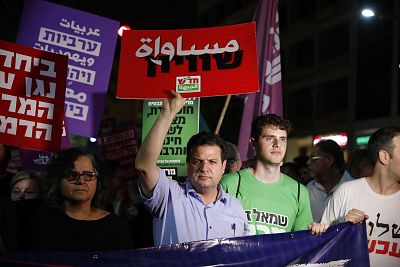 True, there are already legal ways to create segregated communities in Israel, but the new law would make the very idea of segregation something that is integral with the state's values.
"I strongly believe in the right of existence of a Jewish democratic state".
Some Israeli Jewish politicians consider that the founding principles of Israel's creation, as a state for Jews in their ancient homeland, are under threat and could become less relevant, or obsolete, in the future.
"It has passed a law of Jewish supremacy and told us that we will always be second-class citizens".
By emphasising Israel's Jewish nature, it is "reducing, not directly but indirectly, its democratic nature", Friedman said.
The bill, which also states that Al Quds is the capital of Israel, not only encourages illegal settlements, but also flagrantly violates all global laws and United Nations resolutions, especially those which criminalise Israeli settlements and call for cessation of violence against Palestinians.
The law had drawn criticism by a wide range of NGOs and rights groups as a racist bill that would divide the society.